As much as home improvement and projects can be costly, homeowners know how these can improve the quality of life at home and even contribute to raising its value. However, others want to spice up their place but on a budget. Although money can be a limiting factor, that doesn't mean that it makes upgrades for the home an impossible feat.
You don't have to spend a lot to spruce up your home. You can still achieve that on a budget. Al you need is some ideas on where to start. Here are seven easy and inexpensive upgrades you can do for your home anytime you want:
Check the Drainage and Grading
Functional and well-maintained gutters and downspouts are features often overlooked by many, especially for first-time homeowners. Make sure these are routed to the right areas, which will prevent ground erosion and water problems in the basement. Poorly-placed parts can lead to the sinking of concrete and water into the basement. The unregulated flow of water is a silent, constant and insistent problem that may lead to costly repairs in the future. While it's still early, check your downspouts and gutters. They're inexpensive to replace which can make replacing parts a viable option to do as soon as possible.
Trim Tree Branches Regularly
Branches that hover over the house will eventually scratch and scrape the exterior of the home, specifically the walls, gutters, roof, and windows. Although the damage won't be noticed after a day or two, it's the quiet, unnoticeable, and constant scratching over a long period that will result in wear and tear. With that said, it's important to trim the branches of trees that are closest to the house on a regular basis. Preventive measures always cost less than repairs and restoration.
Insulation and Air Sealing
Save energy and cost by choosing money-saving and effective moisture control, ventilation, and air sealing options for your home. If any or all of these components exist in your house but are out of date, the heating and cooling systems could be using extra energy to compensate. If you don't yet, install expanding foams to fill any gaps between doors and windows, especially those that lead to the exterior of the home. Any heat or cold that leaking from the gaps is energy and money wasted.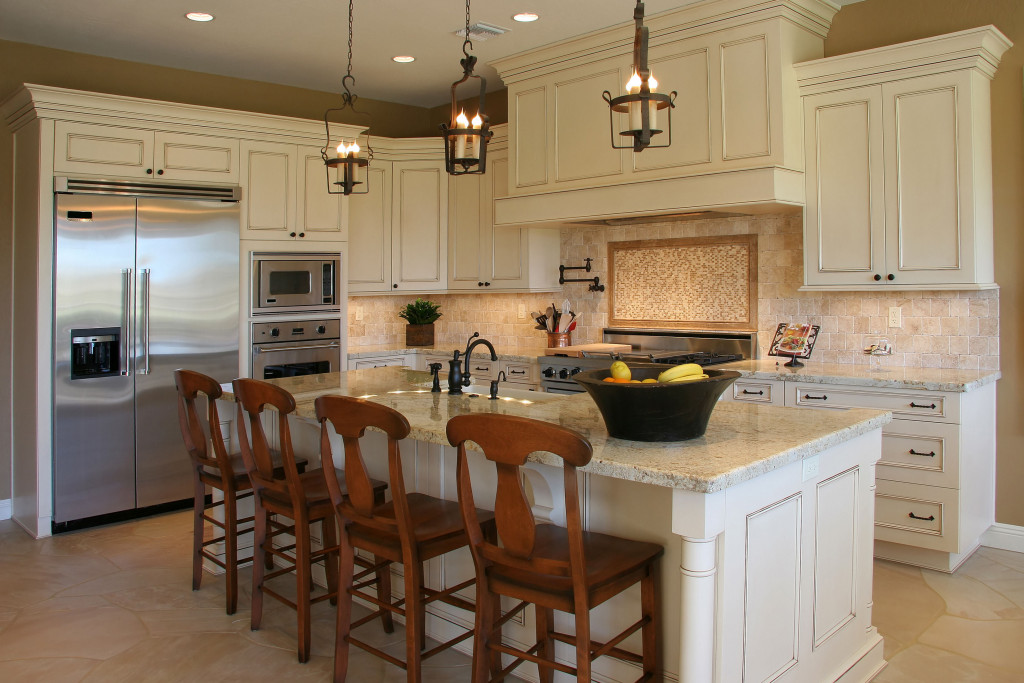 Windows, Doors, and Skylights
Make the most of the sunlight by installing big windows, sliding doors in the living room, or skylights above the staircase. Inviting natural light inside reduces the need for lights in the middle of the day. It's cost-effective and putting nature's gift to good use. It even triggers the release of serotonin in your brain, helping you start off your day right.
Power Sockets, and Light Switches
Power sockets and light switches will eventually turn yellow. This discoloration is common in electrical plastics, but inexpensive to replace. However, yellowing isn't the only issue commonly found in old sockets and switches. They can also crack which will allow dust and debris to build up, or become loose. Accumulated dust and exposed wires are not cute to look at but most importantly they're fire hazards. Even after these have been replaced, it is good practice to continue being safe. Child-proof outlets and other electrical items for their safety.
Update Cabinet Handles, Hooks, and Doorknobs
Other than the function these parts serve, they're great accents that elevate a space. As little as they are, they hold a dainty and elegant touch. You could go for a more modern aesthetic, or even make them match with the power sockets and switches to have a more cohesive look. There's a wide variety of styles in the market and for competitive prices. It's definitely worth checking out.
Freshen Things Up With a Fresh Coat of Paint
Of course, we can't forget the frequently-tackled, go-to method for upgrading a home: a fresh coat of paint on dull and washed-out walls. It's amazing what it can do to change a person's perspective and how it transforms a room drastically–at an affordable place at that! It's one of the biggest factors that tie up the whole theme you're trying to go for.
Getting some home upgrades done is always great, but they don't always have to be at the expense of your wallet. They can be simple changes that are still relevant, pivotal, and functional for your home. These tips are simple yet often overlooked. These are underestimated but worth following. See how much these improve home and try them out yourself.