Let's face it; with our current situation, you're most likely spending more time at home than ever before. Regardless if you are on a lockdown or home quarantine, you're probably eating all of your meals at home. However, just because you are unable to dine at your preferred restaurants does not mean you should be forced to eat sad frozen dinners on the sofa.
What is there not to like in dining out, anyways? Eating out is a chance to get away from the daily grind and engage in a little "me time." From the ambiance and decor to scoring fresh food and not having to wash the dishes afterward, there truly is no perfect place than treating yourself out. But what if we tell you, you can do all that in the comforts of your home?
By building your dining experience, you can entertain your loved ones and be amazed at how fun home restaurant cooking can be with a little creativity and decoration. Here's how to get things moving:
 1. Choose and prepare the location
To create the atmosphere, choose an area of your home that makes you feel as though you are in a restaurant. It could be the dining room, the living room, or even your backyard.
The area should be arranged in a manner that you would not normally set the table for a usual family meal. There are no limitations to the design or style you can do. For example, if you want a fine dining experience, go ahead and bring out your best silverware, glassware, and a good quality table cloth. If you're aiming for a romantic garden dinner, make sure to decorate your table with a flower centerpiece, and don't forget to hire an experienced landscaper beforehand to set the mood of the surroundings and ensure that the decorations you have in mind are in place.
 2. Choose a theme
Consider the type of food you wish to enjoy and choose a theme that complements it. Perhaps you're looking to replicate the diner experience from your favorite restaurant, build the atmosphere of a cozy Italian bistro, or a steakhouse experience complete with heavy-duty steak knives.
Consider the restaurant style you want to imitate, and then proceed to pick your selection. Next, narrow down the meals you want to cook and consider the ones that you and your partner will enjoy.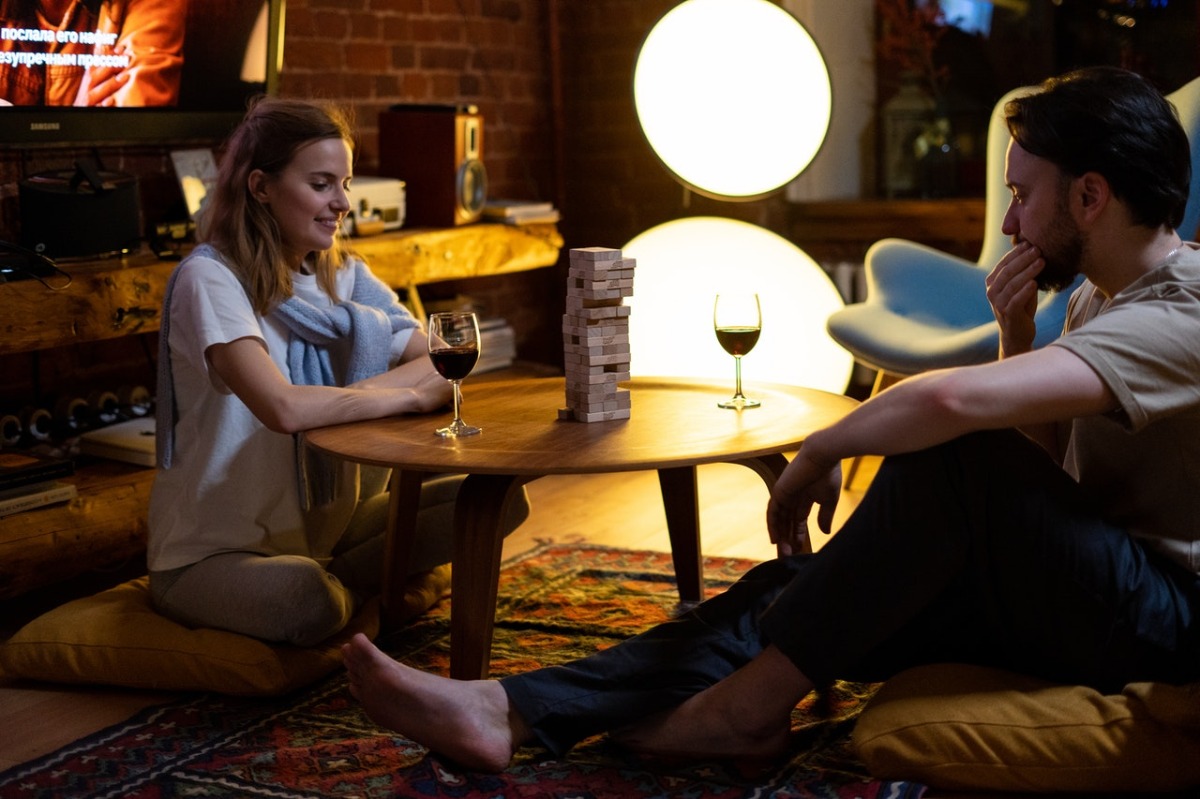 3. Set the mood
Now that everything is slowly coming into place, it's time to make a few adjustments to get the ideal atmosphere. This entails taking into account factors such as lighting and music as they play an integral role in making your dining experience worthwhile.
For a more relaxed look, keep your space well-lit but not too vivid, as this can produce the wrong vibe. The lighting should be bright enough to see the food, but not so bright that you can't see each other's faces. A good way to do so is to place a yellow-lit lamp on the wall to cast a softer illumination.
Make sure that your playlist has the same thematic feel as your food and mood, to help your meal go down better. Experiment to find the right music that harmonizes with the occasion and make sure everybody enjoys it. Remember, if music is too soft, it's useless; if it's too noisy, it impedes conversation.
 4. Dress the part
The biggest social faux pas you can make is dressing poorly for the occasion. Just because you're in the comfort of your own home doesn't mean you can't dress up. Keep in mind that the way you are dressed when you're hosting a dinner party translates to the whole experience in your house.
If you and your partner are having a date night, we recommend going all out and enjoying your fancy and intimate evening. Being creative goes beyond dressing up.
5. Don't forget to Enjoy it
Converting your home into a restaurant would allow you to fully appreciate the outcome and the effort. Cherish all that happens when it happens. Don't aim for a flawless evening, for such evenings don't exist. It is the whole process and the moments you have together that make it perfectly unforgettable. Don't forget to have a great time. Be in the moment and cherish every bit of it.
At a moment when our life is unnecessarily complex, there are many ways to pass and brave these turbulent times. Let your home feel like a restaurant for a night. Involve your loved one, or better yet, leave them wondering and watch their reactions on the night of the reveal. It's going to be worth it.