Couples are too busy with their careers that they tend to face various challenges during wedding planning. Most of them get overwhelmed with juggling their full-time jobs and preparing all essential details for the big day. If you are one of those who are planning to get married soon, you need to consider hiring wedding experts. Professional wedding planners and coordinators can assist you in making all the necessary preparations for your big day. Some of them even provide a step-by-step guide for couples so that they can follow a strict schedule months before the actual date of the wedding. Unfortunately, there are still moments when couples forget to fulfill some crucial tasks before their special day. To avoid this, you need to ensure that you have more than enough time to prepare for the wedding.
Some couples decide to proceed with the wedding a few months after being engaged. Others choose to wait for one to two years before tying the knot. The key to deciding the wedding's official date lies within your capacity to make all the preparations on time. Even if you choose to hire planners and coordinators, you still need to make sure you have enough time to get everything ready. That is why having a checklist of the things you need to do is crucial during wedding planning.
You need to secure important documents, form the wedding party, and book wedding vendors. However, there are also a few less-exciting tasks that you need to fulfill before the wedding. They might not be as important as the ones on your official checklist. However, they are still crucial to ensure that you will have the best time during your wedding. The following are some of these small details you might want to include on your checklist: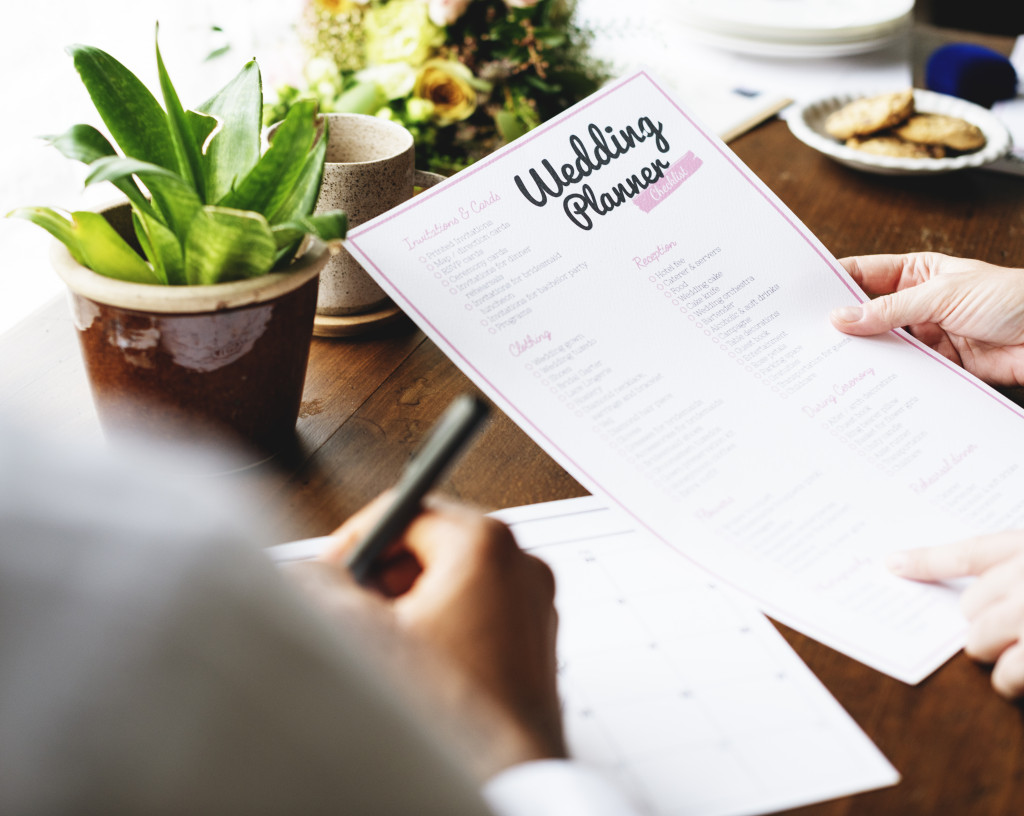 Prepare a contingency plan and budget—You need to understand that even the most well-planned weddings have flaws. Thus, you need to prepare for possible challenges that you might encounter during the event. For instance, look for an alternative venue for the wedding, especially if you are planning to have an outdoor ceremony. Don't forget to prepare an extra budget as well, in case you need to pay additional charges on the day of the wedding.
Schedule time for self-care—Don't forget to take some time off as well. Keep in mind that wedding preparations can be too overwhelming. It can be physically and mentally draining as well. Thus, you need to take some time to relax or spend some time doing fun things other than preparing for the big day. Don't forget to address health issues, as well. Get wisdom teeth removal if you need one. Consult a dermatologist for skin concerns. Ensure that you will look and feel your best during your special day.
Request some time off from your employer—Don't forget to inform your employer that you will need some time off to prepare for the wedding. If you can't request a break to prepare for the wedding, you can ask if they can offer you flexible work schedules in the meantime. The key is to inform your employer and your teammates about the event. This way, they will understand why you need some time off from work.
With a detailed list of tasks, you no longer need to worry about missing a single important detail at your wedding. The key is to anticipate potential problems and address them before it happens. Make sure to work hand in hand with your vendors, especially your wedding planner or coordinator. Also, don't forget to hit the pause button when things get so overwhelming. Ensure that you get to enjoy your time preparing for the big day. This way, you can enjoy a happy and stress-free wedding day.