Tall guys often find it challenging dressing fashionably, as they don't fit into the same clothes as their shorter friends. However, they shouldn't have to sacrifice comfort and style because of their height! To help out tall guys everywhere, this article discusses four secret fashion-forward tips that will make dressing stylishly easy and fun. From the best clothing materials to styling tricks, these tips will help tall men find confidence in their fashion choices while looking great at any event.
1. Invest In Tailoring
Tailoring is the key to looking great as a tall man, and it's worth investing in if you want to achieve a stylish, sophisticated look. Make sure that the items you buy are tailored to fit your body type — this means more than just adjusting the length of your pants. Consider having a tailor adjust the shoulders, chest, and waist for a tailored look.
When shopping for tailored clothing, pay close attention to the details. Look for garments made from quality fabrics that are cut in flattering fits. Avoid items that fit too tight or loose, as they will not be flattering on your body type. Opt instead for roomy clothing to allow movement but still fits nicely against your body. It is also essential to consider the details of your garments — make sure they are finished with high-quality linings, buttons, and pockets.
In addition to focusing on fit, choose colors that complement your skin tone and hair color. A well-fitted shirt in a complementary color will look great and be a wardrobe staple for years to come. The same goes for your trousers, blazers, and jackets — choose timeless pieces in classic cuts and neutral colors that can be easily coordinated with other items in your wardrobe.
2. Avoid Bags and Bulky Shoes
Bags and bulky shoes can make tall men look ungainly, so opt for sleeker options that complement your shape. Choose sleek leather bags in classic shades, such as black or brown, and go for slim-fitting shoes. This will help you to maintain a streamlined look.
As mentioned, don't be afraid to experiment with different textures, patterns, and colors regarding accessories. A printed tie or a patterned scarf can add interest to an otherwise simple look. Don't forget the details — lapel pins, pocket squares, and cufflinks are great ways to add a bit of personality without being too overbearing.
For shoes, look for pointed-toe styles that elongate the legs and keep the heel height low. Avoid bulky materials like suede or thick leather — opt for lightweight fabrics such as canvas or linen. A good pair of loafers or Oxfords can take an outfit from drab to fab in no time.
3. Wear a Plain Sweatshirt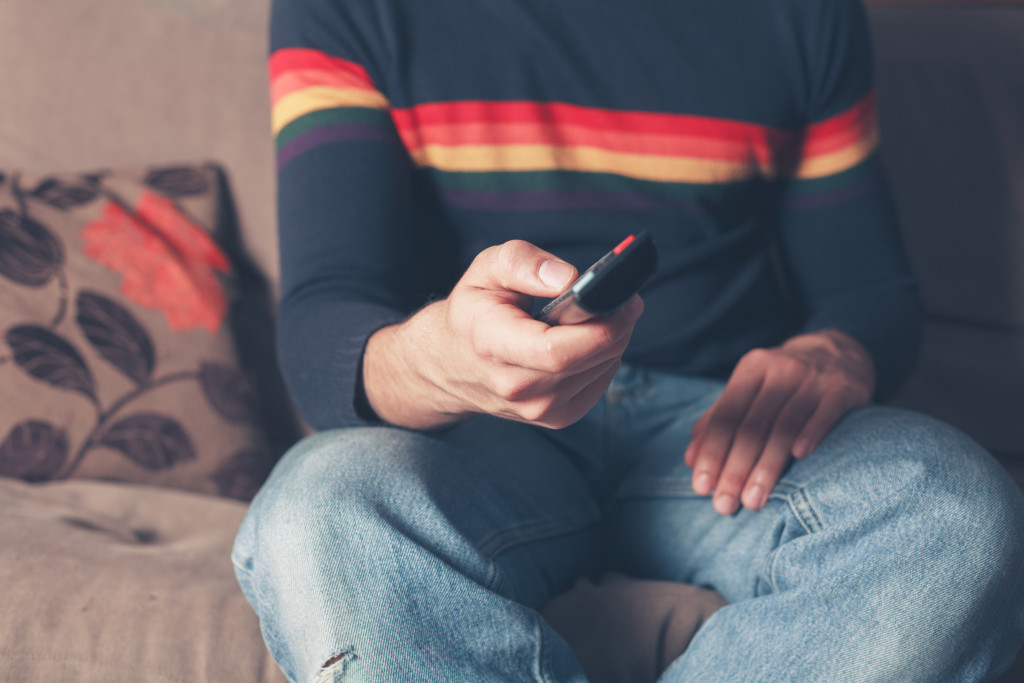 A plain sweatshirt is a great way to stay warm and cozy while still looking stylish. Choose one with a slim fit and opt for neutral colors such as black, white, or gray. This will keep the look simple and classic. For an extra layer of warmth on colder days, layer your plain sweatshirt over a lightweight shirt or blouse.
If you're looking for a more relaxed look, try pairing your plain sweatshirt with 3xlt tee shirts. Choose colors that complement the sweatshirt and fabrics that are lightweight and breathable. For a casual look, try an oversized top or a loose-fitting hoodie — this will help to create a balance between the baggy bottom and snug top. To complete the ensemble, add a pair of slim-fit jeans or chinos. Whatever you choose, keep it simple — that's the key to looking chic and stylish.
For a night out, opt for something more dressed up. Try pairing your plain sweatshirt with a smart blazer and dress pants. Add a patterned tie or pocket square for an extra touch of personality, and choose slim-fit shoes for the perfect finishing touch. This look is great for any occasion — from cocktails to dinner parties — and will ensure you look your best wherever you go.
No matter what the occasion, wearing a plain sweatshirt is a great way to stay warm and look stylish at the same time.
4. Roll Up Your Sleeves
Rolling up the sleeves of your shirt or sweater is an easy way to add a little edge to your look. It also adds definition to your arms, helping you to appear taller and more streamlined. To keep the look sharp, ensure that you roll up the sleeves evenly and neatly — no SCR munching!
Choose a shirt with a structured fit for the most streamlined look, and go for neutral colors. Then, simply roll up the sleeves and leave them unbuttoned. This look is great for casual occasions or adding a bit of personality to your outfit.
Try rolling up the sleeves of your sweatshirt or hoodie for an even more relaxed vibe. This is a great way to keep warm without looking too bulky. Choose a lightweight sweatshirt in a neutral color, then roll up the sleeves for a more casual look. Combine with jeans or chinos for an easy weekend outfit.
In Closing
By following these four secret fashion-forward tips for tall guys, you can look stylish and sophisticated regardless of height. Invest in tailoring, avoid baggy clothes and opt for slim-fitting lines — then finish off your look by rolling up your sleeves. With these simple yet effective tricks, you can have a fashion-forward wardrobe full of timeless items.