With its history as a transportation hub, Ogden has long been a busy industrial center. Union Station was built in 1869 and linked Salt Lake City to the transcontinental line making it the gateway to Utah. Even today, it remains among the top ten manufacturing cities in the entire country, bucking a nationwide downtrend.
If you're looking to renovate or redesign your home in Ogden, consider applying the industrial aesthetic. It has emerged as one of 2018's hot design trends, and you'll be evoking strong associations with the city's own deeply ingrained industrial roots.
Aesthetic features
Industry is functional, not flashy or polished. Walls are exposed, with little or no paint; colors are kept neutral. Pipes and vents are in plain view. The effect conveys roughness, but also grit, cleanliness, and honesty.
Another feature of industrial design is open space. Clutter and furnishings are kept to a minimum, and instead, priority is given to having space for people to move around. If you have the vertical space for it, a loft is a great idea for lounging around without diminishing the sense of space in the home.
Function is also important when considering any accessories and fittings. Shelves, lighting fixtures, and standard appliances are all functional and also part of the overall look.
Materials
Concrete will make up the bulk of your design surfaces. Walls and floors with a rough texture evoke the sensation of touching concrete, along with its durability and strength. Bricks are also used in conjunction with concrete to bring in a touch of a more old-fashioned look.
Metal components are usually steel or copper. The smoothness of metal provides contrast to the roughness of your walls and floor. Stainless steel tends to match with many appliances, providing a continuous fit naturally. Copper's use in pipes brings a sense of flow along with its warm tone
Wood is also part of the industrial look. It's versatile and natural, providing a subtle range of tone and texture while still being a tough industrial material.
Considerations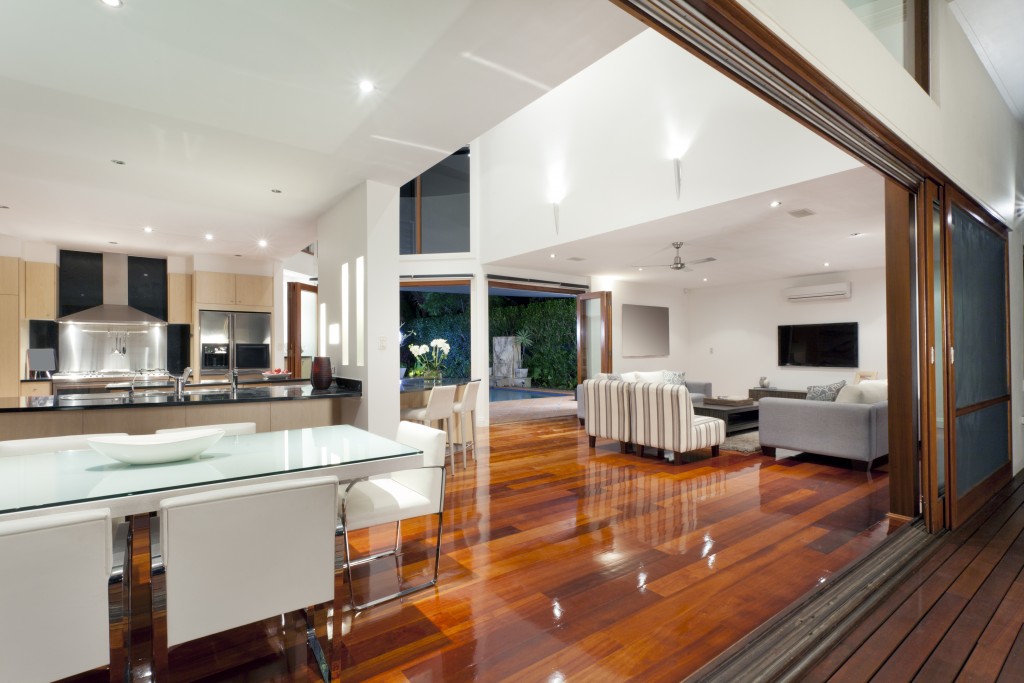 You can trim a lot on expenses with the industrial aesthetic. Minimal, if any, finishing or painting is needed on your surfaces. You also won't need to worry about cracks or regular wear and tear – it enhances the look, increasing the sense of functionality. Naturally, you should still repair your concrete in the first place, and make sure all existing structures are sound at the beginning of construction and check for any signs of serious damage.
The lack of color and comfortable textures are often a concern when applying industrial design to the home, but they don't need to be absent. Selective usage is the key. Make those heavy industrial materials emphasize the sense of comfort, by contrasting nicely with the few pieces of warm and soft furniture you use.
Any part of the house with soft fabric, bright or vibrant colors, is going to stand out – so make sure that it works, and serves an appropriate function. A cozy chair or sofa by the fireplace works, because that's where you want to lounge – but it probably doesn't belong anywhere else. Similarly, colorful decorations or textile accessories should be a focal point, not dispersed where they might break up the minimalist look.
Redesigning a home is an exciting project to express one's identity. Choosing the industrial look for your home in Ogden has the added benefit of tying into the city's historical past and present industrial growth. With subtle, selective touches, it can bring even greater emphasis to the comforts of your home.