Parents are becoming increasingly concerned with the health effects of chemicals on their children. And there's plenty of reason for them to be concerned. According to one estimate, the average American household can contain up to 62 toxic chemicals.
Chemicals that can adversely impact your health and that of your children can be found in astonishingly mundane objects such as shower curtains, water bottles and carpets. A shocking number of these dangerous chemicals lurk in various cleaning agents. For example, antibacterial cleaners may contain quaternary ammonium compounds that could be linked with respiratory diseases. Antibacterial dishwashing liquids could also have triclosan, a probable carcinogen.
If you want to decrease the amount of toxic chemicals in your home, you can make the switch to homemade cleaning agents. These cleaning solutions can be just as effective in sprucing up your house and are much less harmful to your health.
Important Ingredients
You need to familiarize yourself with some of the most common ingredients for non-toxic home cleaning. They tend to be more affordable and less irritating than their chemical-laden counterparts. Before you begin cleaning your home, stock up on the following essential ingredients.
Baking soda. An effective deodorizer, baking soda also removes grease and stains. It's also a proven antibacterial agent.
Essential oils. These are vital ingredients for creating refreshing scents. Some essential oils are allergens so consider if anyone in your home is allergic to a particular oil before using it.
Its acidic property helps scrub away mold and mildew as well as act as a natural air freshener.
Castile soap. Refers to soaps that are made complete of plant oils, these products are free of toxic chemicals and are great for removing grease.
White vinegar is a powerful acid with no toxic properties, making it an ideal ingredient for cleaners.
In case you're hard-pressed to find a natural substitute for a cleaning agent, you can read the labels of products to make sure they don't have toxic chemicals.
Chemical-free Cleaning Guide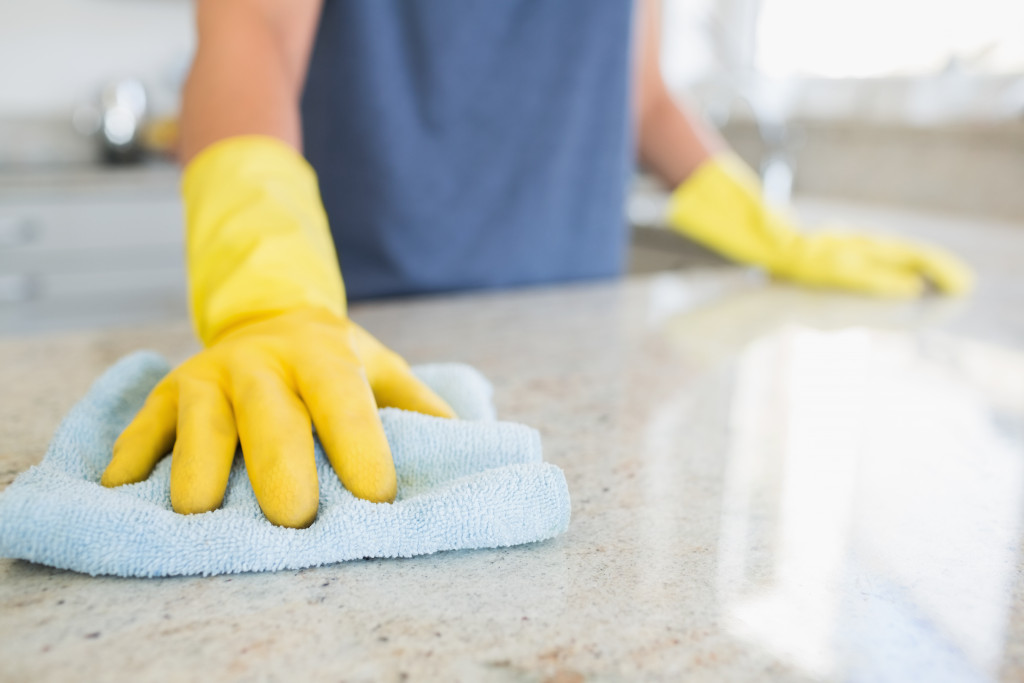 When the time comes to clean your home, here's a quick but efficient guide to sanitizing around the house without using toxic chemicals.
Surfaces
These tend to gather dust and stains over time, especially on hot, windy days. Although you can contact reliable window cleaning companies, you can whip up this homemade cleaner if you have the time. Combine two cups of water with a ½ cup white vinegar. Make it fragrant with the essential oil of your choice. Or turn it into a disinfectant by including ¼ cup rubbing alcohol. Put the mixture in a spray bottle and use it to clean your windows with a soft cloth.
Remove stains from your walls with a mixture of ¼ cup white vinegar and four cups of warm water. Use rags to apply and scrub the mixture. In case of tougher stains, scrub baking soda on them first. Do not use this mixture if your walls are made of natural stone because the vinegar will dissolve the surface.
If your floors aren't made of natural wood or stone, you can use a cleaning solution made of one part vinegar and two parts water. Add a drop or two essential oil for fragrance and use a mop for application.
Kitchen
Drains and Garbage Disposal. Unclog drains and deodorize it without chemicals. Sprinkle ½ cup baking soda down your drain or kitchen sink. Pour a cup of white vinegar and let the mixture fizzle for a few minutes. Boil five or six cups of water in a kettle and pour it down the drain. Deodorize the drain by squeezing lemon juice and dropping cut up lemon rind in the garbage disposal while the faucet is running.
Mix water and baking soda to make a thick paste. Apply the paste on stained areas of your oven, like food spills and discolored spots. Leave it there for 12 hours before using a soft sponge to scrub it away.
Get a microwaveable mug and fill it with a cup of white vinegar. Squeeze in the juice of one lemon and mix. Leave the cup in the microwave and activate it for a couple of minutes. Don't immediately open the door and let it steam for a few more minutes. Use a cloth to clean the inside of the microwave without scrubbing.
Bathroom
Shower Stall. Take a two-step approach to clean your shower stall or bathtub. First, apply white vinegar on mildewed areas. Leave it there for half and hour before scrubbing with warm water. Next, combine one part castile soap with two parts baking soda and use the paste to scrub your entire shower or bathtub.
Sprinkle half a cup of baking soda evenly around the inside of your toilet bowl. Mix a dozen drops of essential oil with ¼ cup vinegar and sprinkle it around your toilet bowl. Use a toilet scrub to clean the area while it's still fizzing. Make a daily cleaner with one cup of white vinegar and couple drops of essential oil. Pour this mixture in a spray bottle and spritz on the toilet seat, letting it stand for five minutes before wiping it away.
Air Freshener. Keep your bathroom smelling clean and wonderful with this easy project. Punch holes in the lid of a mayonnaise jar or similar container. Fill it with ½ cup of baking soda and 10 to 15 drops of essential oil before screwing on the lid. Leave it in your bathroom and give it a shake whenever you want to freshen the air.
Making the change to a chemical-free lifestyle isn't a race. But you can get a head start by drastically reducing the number of toxic chemical cleaners in your home. These tips and recipes are a great way to begin your transition to a healthier way of protecting your family.