Do you want to hit the slopes for the first time? Here are the essential things you need before you ski.
Equipment
Safety is the primary concern when you ski. One of the most common skiing injuries is head injuries. So, the first thing you need is a helmet. Some beginners think that helmets are only for experts.
But this is not true. Slopes for beginners can be tricky and rock hard, so even if you don't ski fast enough, you might still stumble and hit your head. You can't ski without skis, boots, and poles.
But some experts suggest that you rent these pieces of equipment for your first ski trip so that you know the type and size that fit you well. When you know what your size is and what you can handle, then you can buy your equipment.
You'll also need some goggles because ultraviolet rays are more intense at high altitudes. These rays will reflect off the white snow right to your eyes. So you need quality goggles to be able to see where you're going and to protect your eyes.
The goggles are also essential against snow and debris that might blow your way when you're skiing fast or when it's windy.
Clothes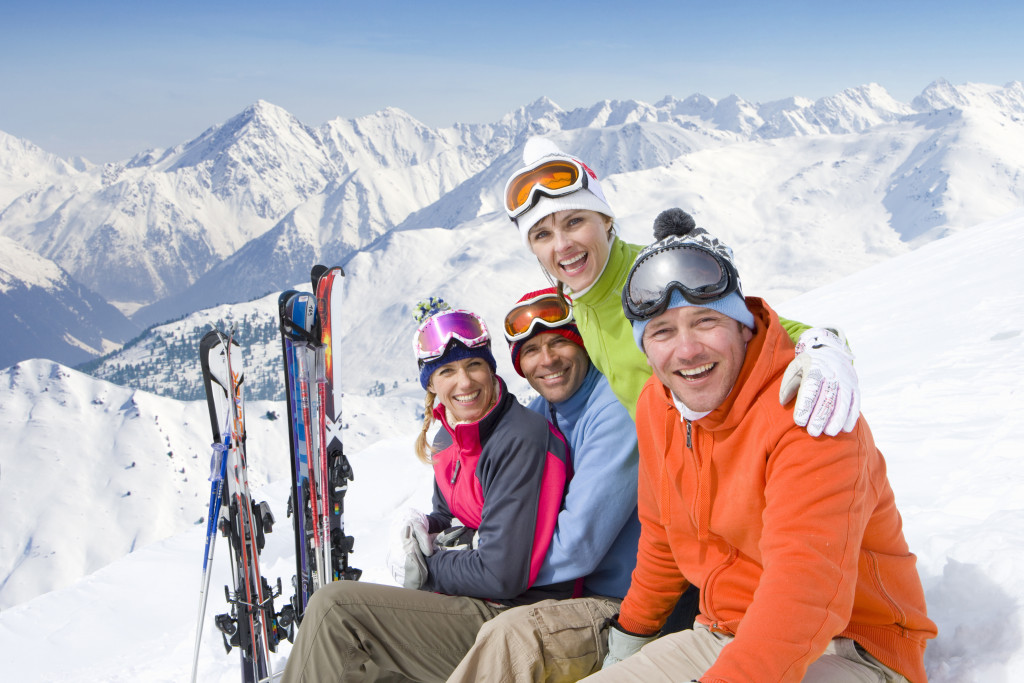 Skiing requires specialized clothes. According to experts from Descente, ski pants and ski jackets have to be waterproof and non-constricting with outstanding insulation and breathability ratings. You'll need something that combines both function and fashion in one package.
Underneath your outerwear, you'll need some base layer. There are plenty of thermals sold today. These are supposed to keep you warm. But what's more important is that the clothes keep you dry so that no matter how much you sweat or get wet, you won't freeze in the frigid climate.
You can put on a middle layer like a lightweight down jacket or a padded vest. This can provide the warmth you need. But if your outer and base layers are already good enough, you only need these clothes when the weather is particularly cold, usually if you ski between December and March.
You'll also need mittens or gloves. These have to be waterproof as well since, as a beginner, you'll probably be falling a lot, and your gloves will be soaked and very cold if it's not waterproof. Another set of an essential piece of clothing is the socks. These should provide enough warmth, cushioning, and room for your feet.
Gear and other essentials
As you ski, you'll need to stop once in a while to rest and get back your energy. Buy a handy or small backpack that can store a water bottle, chocolate or a sandwich. Also, be sure to put a tube of sunscreen in your pack.
As stated above, UV rays will be intense in the slopes, so you need to put sunscreen before you hit the snow. Be sure to touch up your sunscreen as often as possible.
Skiing is a fun activity, but you need to be prepared for the cold and the hazards that go with it. Be sure to get the proper equipment, clothing, and other essentials before you hit the slopes.