If you're having a new house built or simply a kitchen remodel, it would be nice to be presented with an organized set of choices of kitchen cabinets, cabinet doors, countertops, etc. There is a big number of options available when it comes to material, style, and type of kitchen cabinets.
There are experienced builders of kitchen cabinets, including base cabinets, utility cabinets, and vanity cabinets in Salt Lake City and other places that you can rely on to make your dream kitchen come true. But for now, while you are exploring your options, consider this list to guide you:
1. Base Cabinet
Also called lower cabinets, they provide the base for your kitchen. They are made to support heavy countertops; therefore, their material should be strong. Base cabinets provide the largest storage space for your kitchen, with shelving units for cookware and pull-outs or roll trays for items that need easy access, such as trash and recycling bins.
Base cabinets are for kitchen islands, window seating, recycling and trash, and kitchen vanity cabinets or baths.
2. Wall Cabinets
These cabinets are mounted on the wall above your base cabinets. They also provide sufficient storage space that is easy to reach while you are on your feet. You can use wall cabinets for your spice rack, countertop appliances (e.g. toasters, electric kettles), and for other items of different sizes that need to be easily accessed.
3. Tall Cabinets
Tall cabinets are also known as pantry cabinets or utility cabinets. They create a huge, vertical storage space, standing typically at 84 to 96 inches high.
They are used to store food in bulk and cleaning supplies like brooms and mops. You can store smaller items inside by installing hooks, shelves, and drawers. You can also configure them so they can accommodate your microwave oven, double ovens, or oven-microwave combination units.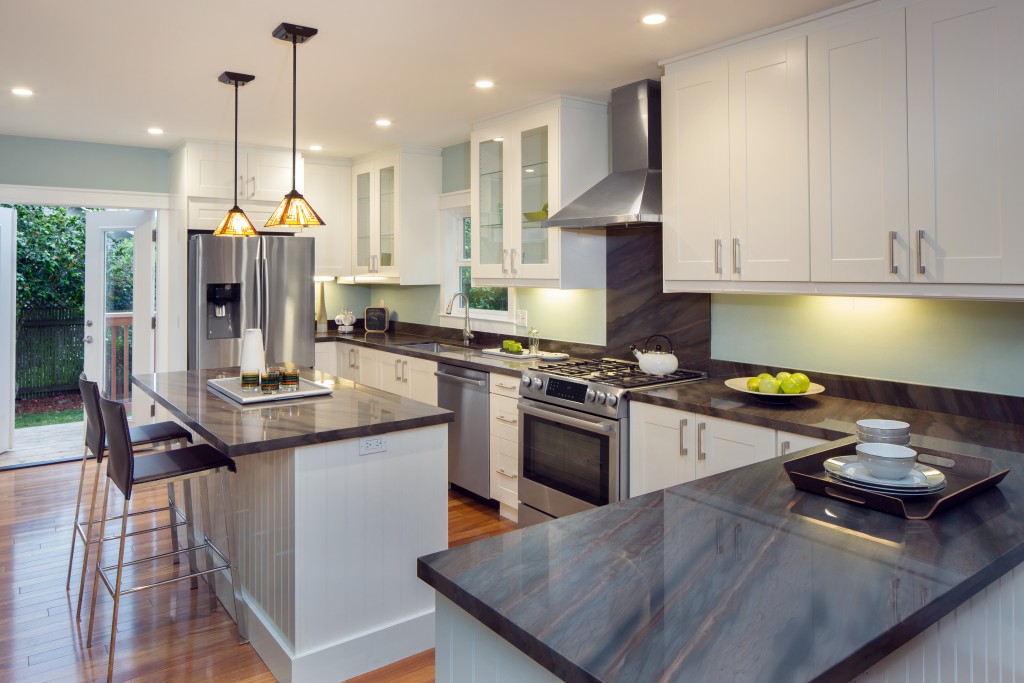 Styles of Kitchen Cabinets
1. Shaker Style
This is the most commonly used kitchen cabinet style. It has five flat panels, four of which are used to create the frame, and one single panel at the center. They're a simple, classic kitchen cabinet style that fits both traditional and contemporary kitchens.
2. Louvered
This cabinet style comes with horizontal wooden slats, something you'd typically see on a window and some doors. Louvered cabinets are great for storing items that require ventilation. Note that this style is on the expensive side.
3. Slab
Slab or flat-panel kitchen cabinets are simple but stylish, without much detail but hard lines on the surface. It is perfect for minimalist kitchens in contemporary homes.
4. Inset
This is also a classic kitchen cabinet style, but pricier. Inset cabinet doors are set inside the cabinet frame, unlike typical styles with the doors placed outside the frame. Building inset cabinets require extreme precision to make sure that the doors open and close properly.
Note that the hinges are exposed in inset cabinets, and two hinges per door are required for them, so you'd have to stretch your budget.
5. Distressed
An antique-themed house would need distressed kitchen cabinets. Any door style can be customized by rubbing off the corners and distressing them to make them appear worn-out and old. For this, you'd also need an additional budget for the extra works.
6. Beadboard
A country farmhouse typically has this style of kitchen cabinetry. The doors consist of rows of vertical planks with notches known as "beads" between each plank, giving the cabinets more texture and style.
7.  Thermofoil
Thermofoil is an affordable style option, made of imitation wood (medium-density fiberboard) and wrapped with plastic coating. They are low-maintenance types that are resistant to moisture, but not to heat. If you're choosing this style, make sure no ovens and other hot appliances are placed in them.
If your choice is to have unique kitchen cabinetry, then you have the option of getting them custom-made just for you. That way, you can be in control of the design and style, reflecting your creativity and personality on each detail.