As the Coronavirus pandemic swept across the country, thousands of engaged couples were forced to postpone or cancel their wedding plans amid health and safety concerns. Just for the spring of 2020, there were originally 450,000 weddings scheduled.
Most couples who planned a grand wedding ceremony opt to reschedule for the spring of next year, while some others canceled their wedding plans. There are also couples who are not going with either option but instead, pushed through with their micro wedding plans. After all, who and what can stop love?
Micro Wedding Explained
Micro weddings are not something new in the wedding industry. This wedding plan simply is a ceremony and reception having less than 50 people on the guest list. It is intimate and inexpensive, costing around $1,600 to $10,000, depending on how much you are willing to splurge.
With the outbreak of the pandemic, micro weddings have become a popular option for couples who do not want to postpone or reschedule their wedding plans. Couples can save a lot from their original wedding budget, and they help the wedding industry survive.
Perfect Wedding Favor Ideas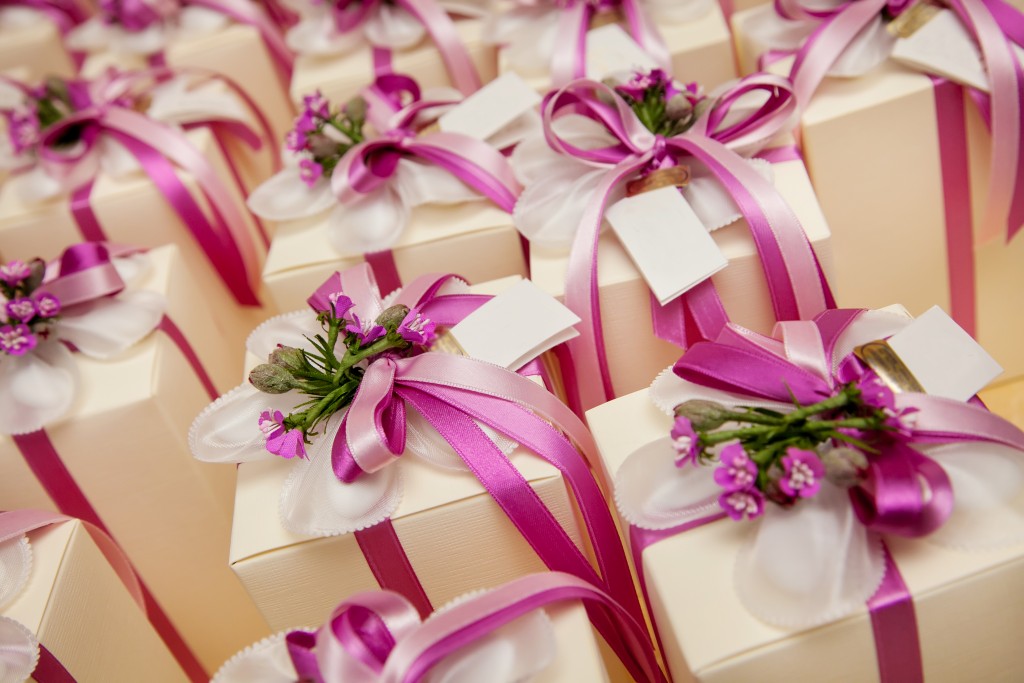 The thought of reducing one's wedding guest list can be a gruesome task for most couples. Close friends, distant relatives, and even acquaintances can get upset if they figure out they did not make it to the cut.
But with COVID-19 restrictions, it is pretty much understandable why the number of wedding guests should be reduced. To make up for friends and relatives who are not included on the final list, here are some nifty wedding favor ideas they'll surely love.
Candles
Candles are a popular wedding favor option in the history of weddings. It can be given along with customized matches or just a stand-alone gift. There are several ideas on how you can make this simple wedding favor elegant.
You can put it on Mason jars with a printed thank you message on its metal tin lid. For pillar candles, you may either wrap your message around the candle or have it printed on card stock.
Specialty Mugs
If you are planning to have a winter wedding, specialty mugs are great options for wedding favors. You may have them printed with your message, wedding date, and names, or you could just leave them be. Fill them with nuts, candies, and dried fruits for an added touch.
Succulents
Succulent plants are popular wedding favors for the majority of millennial couples. Most guests love receiving this delicate plant since it is a beautiful addition to any home garden.
There are several ways how you can present your succulent wedding favors to make it look much more elegant. You may opt to put them on small Mason jars, or even on special ordered shot glasses for an added surprise to your guests.
Seed Packets
Seed packets are the best choice for wedding favors if you plan on saving on money while being thoughtful to your guests. With people spending more time at home, the majority are into home gardening.
There are plenty of seed options you could choose from. It could be your favorite flower, staple kitchen herbs, or vegetable seeds. Spruce it up by selecting colorful packaging and adding customized messages.
Recycled Plastic Tumblers
For couples who are environmentally-conscious opt for recycled plastic tumblers as wedding favors. Your friends and loved ones could use such items when they head out to their favorite coffee shops.
Use a custom-designed injection molding to create your own customized recycled plastic tumbler. Not only will your guests love your wedding favor, but you are making a positive impact on the environment.
Personalized Hand Sanitizer
To show how much you care for the safety and health of your close friends and relatives, give them personalized hand sanitizers as wedding favors. Not only are they convenient during the event, but even after the wedding since they can carry it around anywhere with them.
There are plenty of hand sanitizer bottles you could choose from either in gel or liquid form. For a more customized feel, add dates and names on the bottle surface.
Christmas-Inspired Trail Mix
With Christmas just around the corner, consider handing out a Christmas-inspired trail mix. You can add in together pretzels, a variety of nuts, dried fruits, Andes Mints, and green, red, and brown M&Ms. For a more elegant look, place them on jars with custom-made lids.
Knitted Blankets
If your budget allows, why not splurge on knitted blankets as your guests' wedding favor? Wedding venues can get cold during winter, so keep your guests warm with some knitted blankets. There are plenty of knitted blankets you could find on Etsy and Amazon perfect for wedding favors.
Nothing can stop two souls that are bound to stay together forever. With all these wedding favor ideas, your micro wedding will be a blast despite the pandemic.