Featured Image from: People
First Ladies have been known to use fashion as a means of diplomacy. Without a role in government and often asked to keep silent in public appearances, First Ladies are mostly left only with fashion to make a statement.
As far back as the post-Revolutionary War, Martha Washington was, according to the Los Angeles Times, encouraged to favor 'homespun' clothing over British pieces as a way to promote the country. Jackie Kennedy's fashion statement, meanwhile, involved wearing French designers. Betty Ford created one of the most iconic first lady moments when she had her photo taken while she was on top of the presidential cabinet table while wearing a pantsuit (she was also one of the first women to do so.) Michelle Obama, throughout her eight-year tenure, used fashion to show diplomacy, often synthesizing American and international styles. She also supported emerging designers, sometimes even opting for down-market brands.
First Lady fashion isn't always about making a statement, though. Mary Todd, wife to Abraham Lincoln, was often criticized by the public for making expensive ball gown purchases in the Civil War era. The gowns cost $2,000 at the very least, which was a lot of money for the time period.
But when it comes to fashion choices, Melania Trump easily tops the bill in the controversial department. In fact, by now, the former model should already be used to receiving flak on her wardrobe.
Melania Trump has always been a particularly silent First Lady. It's rare that she speaks to the press and she is known to disappear for weeks without an explanation. Between her occasional tweets and sound bite, all the public has to understand the workings of her mind are her fashion choices.
For the public, Melania chooses to speak through her clothes. Sometimes in symbolism, sometimes in literal writing, but both times, the meaning is almost impossible to interpret.
We take a look at the FLOTUS' most questionable and talked-about fashion moments:
October 2016: The Pink Pussy-Bow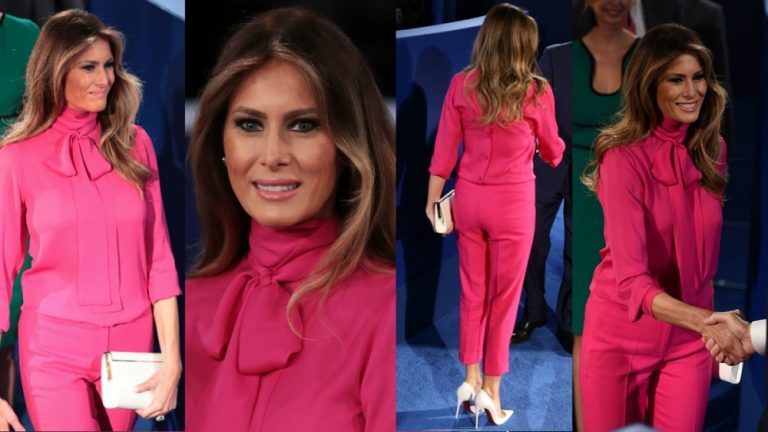 Trump's sartorial fashion choices first started making headlines when she wore a pink Gucci blouse that featured a noticeable "pussy-bow" detail to a presidential debate in October 2016. The debate happened a few days following Access Hollywood tape release. The tape caught a circa 2005-era Donald Trump making disparaging comments saying, "When you're a star, they [women] let you do…anything. Grab 'em by the pussy." Melania's "pussy-bow" blouse may or may not have been a coincidence, and as usual, no further explanation has been offered.
August 2017: Hurricane Garb
In August 2017, Texas dealt with the devastating aftermath of Hurricane Harvey. When Donald and Melania Trump went to see the damage firsthand, Melania elected to wear a pair of sky-high stilettos. On top of her decision to wear unsensible footwear in a natural disaster zone, she was also seen wearing a baseball cap that has "FLOTUS" embroidered on the front.
June 2018: "I Really Don't Care"
"I Really Don't Care"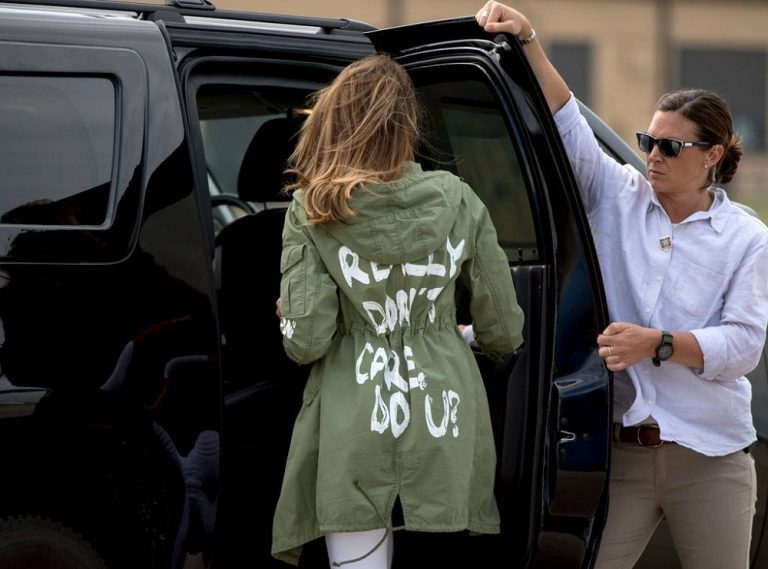 This jacket has got to be the most popular ones in the world. The Zara jacket, worn by Melania to a visit to a Texas detention center that housed migrant children who had been separated from their families at the Mexican border, had "I Really Don't Care, Do U?" scrawled on its back.
Melania's choice in outerwear seemingly expressed apathy, but it stirred the opposite emotion among people all over the globe.  Almost universally, people deemed her insensitive for wearing the jacket, given her destination. Add to that the fact that it was her husband's immigration policies that led to families being broken up and children being separated from their parents, for weeks at a time.
An anonymous source later sent The New York Times a message, saying the print on her jacket was actually aimed at those who looked to criticize her decision to personally see the children, despite the aggressive immigration policies set by the administration.
October 2018: The controversial helmet
While Melania Trump breezed almost breezed through her week-long safari tour in Africa without as much as stirring up controversy, the headwear she wore on Friday quickly changed the situation. On a national park tour in Nairobi, Trump chose to don a white pith helmet. Melania wearing the safari-esque hardhat spurred talk, as the headgear was associated with a complicated colonialist history.
A full-blown uproar took place immediately the day after. Melania, in response, told reporters to "focus on what I do, not what I wear." Just a few days following her fashion fiasco in Kenya a clip from her interview with Tom Llamas for ABC showed a seated Melania, with the hat sitting on a table beside her. Viewers say that with the hat placed so strategically, it's harder for people to shift their attention to anything else.
A Voice beyond Her Clothing
Melania is known for always choosing to stay mum. This leaves people to evaluate her fashion choices, so they can at least form an explanation or search for more clues.
As notions form that Melania voices out her opinion through sartorial forms, she explains in a press conference in Egypt, that she does have a voice outside her clothing. She emphasized that, in fact, she had pretty strong opinions, especially in conversations with husband Donald.
She told the reporters that she doesn't always agree with the statements he makes on Twitter, and that she makes sure to tell him that. She says she gives him her honest opinion and advice. She also admits that it's not all the time that he listens. For Melania, though, the important thing is that she has her own voice and opinions, and that she gets to express her feelings.
Like many of the First Ladies that came before her, Melania keeps said opinions out of public earshot. Instead, she chooses to stick to smiling beside visiting dignitaries and taking part in admirable causes. Whether intentional or not, her cipher-like presence is surprisingly welcome for some, given her oversharing husband.
Expensive, tasteful, and often flawlessly executed, Melania's fashion may purposefully serve to keep her hidden. So until she starts to really speak for herself, her clothes might continue to do it for her.